Dumb and Dumber To
Page 2 of 5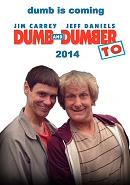 What's it about
There is no growth out of either one of them and it's 20 years later... these guys are in regular life and they're still basically children at heart. The story revolves around the fact that one of them may have sired a child. They want to go and find the child because he's having a kidney problem and he wants to ask him for one of his kidneys.
Credits
Production Companies
Red Granite Pictures
Universal Pictures
Distributor
Universal Pictures
Directors
Peter Farrelly
Bobby Farrelly
Writers
Sean Anders
John Morris
Peter Farrelly
Bobby Farrelly
Producers
Bobby Farrelly
Peter Farrelly
Brad Krevoy
Steven Stabler
Charles B. Wessler
Executive Producer
-
Cast List
Jim Carrey
Jeff Daniels
Laurie Holden
Kathleen Turner
Cam Neely
Brady Bluhm
Steve Tom
Rachel Melvin
..... Lloyd Christmas
..... Harry Dunne
..... Adele Pichlow
..... Fraida Feltcher
..... Sea bass
..... Billy
..... Dr. Pichlow
..... Penny Pichlow
Movie Quotes
Coming soon...
« Previous
|
1
|
2
|
3
|
4
|
5
|
Next »