Dumb and Dumber To
Page 2 of 5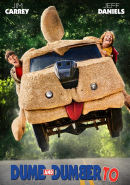 What's it about
Jim Carrey and Jeff Daniels reprise their signature roles as Lloyd and Harry in the sequel to the smash hit that took the physical comedy and kicked it in the nuts: Dumb and Dumber To. The original film's directors, Peter and Bobby Farrelly, take Lloyd and Harry on a road trip to find a child Harry never knew he had and the responsibility neither should ever, ever be given.
The Farrelly brothers produce Dumb and Dumber To alongside Riza Aziz and Joey McFarland of Red Granite Pictures. They are joined by fellow producers Charles Wessler and Bradley Thomas. Universal Pictures will distribute the film in the United States, Canada and select international territories.
Credits
Production Companies
Red Granite Pictures
Universal Pictures
Distributor
Universal Pictures
Directors
Peter Farrelly
Bobby Farrelly
Writers
Sean Anders
John Morris
Peter Farrelly
Bobby Farrelly
Producers
Bobby Farrelly
Peter Farrelly
Brad Krevoy
Steven Stabler
Charles B. Wessler
Executive Producer
-
Cast List
Jim Carrey
Jeff Daniels
Laurie Holden
Kathleen Turner
Cam Neely
Brady Bluhm
Steve Tom
Rachel Melvin
..... Lloyd Christmas
..... Harry Dunne
..... Adele Pichlow
..... Fraida Feltcher
..... Sea bass
..... Billy
..... Dr. Pichlow
..... Penny Pichlow
Movie Quotes
Coming soon...
« Previous
|
1
|
2
|
3
|
4
|
5
|
Next »