Dumb and Dumber To
Page 3 of 5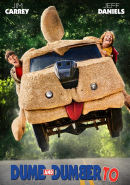 Production Notes
SADDLE UP, PARTNER:
THE DUMB PRODUCTION BEGINS
The 1994 release of Dumb and Dumber is rather unique in movie history: at almost $250 million worldwide, it became a bona fide box-office smash, yet, oddly enough, it is still often referred to as a cult classic.
As the comedy became a staple of home entertainment collections and a weekly presence on cable television, it retained fans from its original theatrical release while simultaneously garnering another generation of Mutt Cutters who couldn't get enough of the quotable lines and best friendship they found among two simpletons on a road trip.
Although the creative team behind the first movie considered, pondered and chewed on a next chapter for our unlikely heroes, it would be a few decades before the stars would align and the sequel would begin production.
For his part, Jeff Daniels was alternately flummoxed and unsurprised by the first movie's success. "Dumb and Dumber was not for everybody, but everybody watched it," relays Daniels. "When we made it, we all thought 14-year-old boys would be impressed, but who knew the demographic would be from 8 to 80? I have businessmen coming up to me in the airport to tell me that it is their favorite movie, and I think that's because the Farrellys tapped into Lloyd and Harry's sense of innocence. We all felt a lot of pressure if and when we made the next film."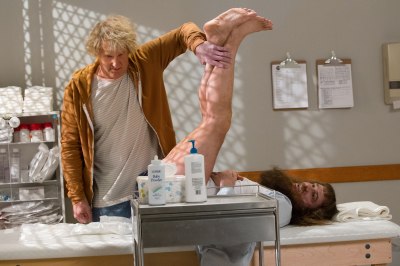 Looking back 20 years, Daniels acknowledges that he, Jim Carrey and the Farrellys struck exactly the right nerve with the first movie. Still, no one would agree to a sequel until the time was right and they had exactly the right story to tell. "Pete and Bobby guessed right a lot on the first one," he says, "but they truly know what's funny now and what works and why it will work."
Momentum for a sequel gained speed a few years ago when Carrey found himself in a hotel room watching the breakout comedy on television.
"I had seen bits and pieces of Dumb and Dumber a number of times," he explains, "but this time I sat and watched it and was laughing and couldn't believe some of the stuff we did. We captured lightning in a bottle."
In recent years, Daniels and Carrey have often been approached by teens who were enthralled with the movie that they were introduced to by their parents. Carrey says: "Lloyd and Harry have just stayed with people and were even closer to me than I realized. It's great to feel the love people have for them. These characters have become like furniture in people's homes, so it's not like we're going to have to educate people about the first movie and these characters."
Producer Charles B. Wessler, who has worked with the Farrellys for more than 20 years—on films from There's Something About Mary to Stuck on You and The Three Stooges—reflects on exactly why the first film struck a chord with so many: "One of the cornerstones of what made Dumb and Dumber work as a comedy is that Lloyd and Harry are too old to be this stupid and still live in this world and somehow survive."
Two decades ago, Wessler's production partner, Bradley Thomas, saw what audiences across the world Fraida Felcher (KATHLEEN TURNER) can't make Lloyd and have seen since the launch of the first film. "You're always concerned about actors' chemistry the first time you see them," the producer says. "With Jim and Jeff, we already knew their chemistry was fantastic. I was there for the first take, watched it, and immediately they were Harry and Lloyd."
Peter Farrelly explains what so interests us in these characters' lives, and why we find them so damned funny: "Lloyd and Harry live with such joie de vivre, and people everywhere love seeing that spirit. Despite that Lloyd and Harry are constantly trying to put one over on the other, they care for each other and they're all that each other has. There's something about that which opens your heart to them and makes them really lovable."
Over the years, Peter and Bobby Farrelly discussed ideas for a follow-up film, but they remained clear about one thing: Unless they could ensure that a perfect script was crafted, they wouldn't consider a sequel. While, to all parties involved, 20 years later just seemed like the right time for the sequel to happen, the filmmakers were all too aware of what made the first movie so beloved…and didn't want to tarnish fans' comic experience with our heroes.
Peter Farrelly reached out to Bennett Yellin, the brothers' collaborator on the first film, and advised him of a plotline that involved Harry and Lloyd looking for a possible love child because Harry needed a new kidney.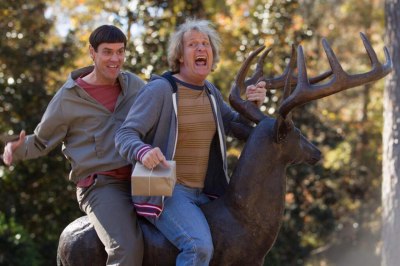 Alongside Sean Anders & John Morris, who had written on Carrey's recent family film, Mr. Poppers' Penguins, and Mike Cerrone, with whom the brothers had collaborated on Me, Myself & Irene and The Three Stooges, the reunion story began the process of taking comic shape. The core team, led by producers Wessler and Thomas, was reunited, and it was full steam ahead.
The Farrellys ultimately settled on the simplest premise that would allow for Carrey and Daniels to do what they do best: The tale would pick up 20 years later, and the guys are middle-aged and still stupid.
"Because of what Jim and Jeff did in the first movie, we knew the bar was set high and we worked a long time on the script and then brought in friends to help out, then we went to work with Jim for a bit," recalls Bobby Farrelly. "The key thing for people to know is that Lloyd and Harry are still good-hearted guys. But since we've last seen them, there's absolutely no mental growth, no character arc. Still, they have each other and that's enough to get them through life."
Carrey explains this preproduction period: "Pete and Bob do fantastic work as a team, and somehow when the three of us got together, jamming on the script, I had forgotten how much fun it was. We all said, 'Why aren't we doing this all the time? This is fantastic.'"
Yellin, who co-wrote the first movie and returns for this chapter, crafts an apt analogy: "Like fine wine, like a pickle, like cheese, this movie had to wait for a certain amount of time to be just right.
The amount of time taken to develop and write it all worked in our favor."
Red Granite Pictures principals Riza Aziz and Joey McFarland liked what they saw during the development process and felt that this project would be a great opportunity to get involved with a classic comedy. They joined the producing team and were able to collaborate both creatively and physically. While the first comedy was released by New Line Cinema, the sequel would have its home at Universal Pictures. "Dumb and Dumber To retains the DNA of the first movie, but the Farrellys added pieces that enhance the original concept," says Aziz. "We're not trying to trick audiences that it's still 1994. In reality and in the movie, it's 20 years later."
Fellow producer McFarland appreciates that the team was holding dear to what made the guys so lovable and nonsensically hilarious. "Harry and Lloyd are politically incorrect, and they're awkward and obviously dumb," he says, "but it all adds up to an innocence that they cling to because they don't know any better."
The production team wasn't interested in topping the first movie; they wanted to do right by it…and the legions of fans. That meant that the Farrellys would take much longer with the development of this script. "We knew we had to make it special," says Bobby Farrelly. And in the right element, Carrey is arguably indefatigable as a comic force, much appreciated by the comic writers. "The real reason is that Jim is never satisfied with what you have. He's always thinking, pacing around the set trying to figure out something more than what we gave him."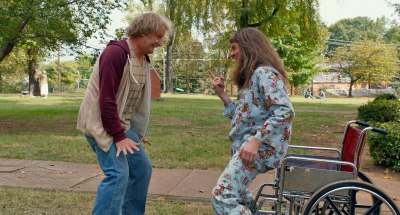 Carrey explains this energy: "My work ethic comes from being absolutely desperate to make something interesting happen in every scene. I have a lot of partners in crime with me on this one, particularly Pete and Bob, who are just a different ilk of people. They're the oddest leaders you'd ever want to follow, but they're so welcoming and cool to everyone."
Carrey also found a willing partner in comedy crime with Daniels, who was methodical about creating logic for a character who, on the face of it, was devoid of it. "I'm always following, reacting to Jim and his brilliant comedy mind, and that's how it is with Lloyd and Harry. Harry is always a half of a second behind Lloyd, and it works beautifully," notes Daniels. "We created the chemistry between the characters, and the friendship is there off-camera because we genuinely like each other; that translates when the camera rolls."
The performer's admiration for Daniels sounds much like the qualities others have ascribed to Carrey. He notes: "The thing about Jeff is that he's totally committed. He's not afraid to go there. That's important because a movie like this is not talking about what happens, it's about setting things up and playing them out to the fullest so that the audience says, 'I can't believe they're doing that.'"
NOBEL LAUREATES AND TOE SUCKERS:
SUPPORTING CAST OF THE COMEDY
Beyond the enduring appeal of the two leads, the Farrellys wanted to infuse the comedy with characters who weren't simply playing straight men to Lloyd and Harry's antics. In the first movie, there was only a passing reference to Fraida Felcher, but in Dumb and Dumber To, "the chick from Cranston" comes to life in the form of Academy Award® nominee Kathleen Turner.
In fact, the script found Turner before the Farrellys even approached her about the part. "Someone told me that they had read the script and the character was described as a 'dresseddown Kathleen Turner-type.' I thought, 'Well, I can certainly do a Kathleen Turner-type, even dresseddown,' so I got my agent on it," laughs the actress.
"I get to play between Lloyd and Harry, not so much as a straight man for them, but probably the only anchor to normalcy in the movie." Peter Farrelly speaks for the production when he discusses how honored they were to have a performer of such caliber on board. "This is Kathleen Turner like you've never seen her before. She truly committed to this role in a way that was extremely brave and hilarious," he raves. "Honestly, we were never thinking about actually getting her when we wrote the script; it was just a visual aid for the reader. We were shocked when we found out she wanted to do it."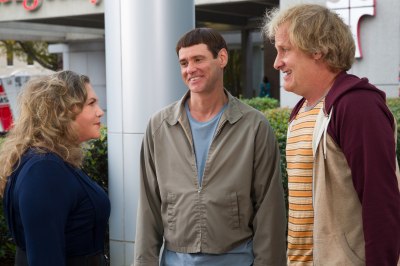 Dumb and Dumber To was a professional reunion for Carrey and Turner, as the pair worked together nearly 30 years ago on Peggy Sue Got Married. "I was stoked she wanted to do the movie," says Carrey. "Even though Jeff and I work a different way than most actors are used to, she jumped right in there and was willing to go with it."
"Kathleen is American acting royalty," lauds Daniels. "And there we were, just doofusing it up right in front of her. I was particularly proud of a scene at the funeral home where I got her to laugh on camera. That was a personal victory."
Comedic performer Rob Riggle was cast in the film in the roles of twin brothers Travis and Captain Lippincott, the villains of our story. "Neither brother is a good guy, but that's what is so fun about it," says Riggle. "Honestly, I would have done anything Pete or Bobby asked of me. Dumb and Dumber is part of the lexicon of America. Everybody quotes that movie, so to be part of it is incredibly special."
The first time Riggle worked with Carrey and Daniels is something that remains with him. "We were doing a scene of us driving in the car and I was thinking to myself, 'I'm in a scene with Jim and Jeff…and I'm the third guy,'" recalls the performer. "It was a cool moment, but it took me a take or two to refocus and get back into the scene."
"Rob is sneaky talented because he has this inherent likability that you can't teach or direct," says Bobby Farrelly. "The Lippincotts are not good guys, but because of Rob, you still don't hate the characters."
Both Lippincotts are inexorably tied to Adele Pinchelow, played by Laurie Holden. Best known to audiences for her role as the badass Andrea on The Walking Dead, she, like Turner, has played opposite Carrey on film. In this case, it was in the movie The Majestic. "It was great fun playing Adele, but she also has a predilection for some rather demented semi-sexual activities," laughs Holden. "She's very…colorful."
Peter Farrelly and his children are huge devotees of The Walking Dead, so he was well-aware of Holden's work. Still, the performer was not initially available for the movie. "It was a terribly hard role to cast," he explains, "and we were not sure what to do until Laurie got back in touch with us and said she was in. We always read actors for every part, but in this case we didn't bother."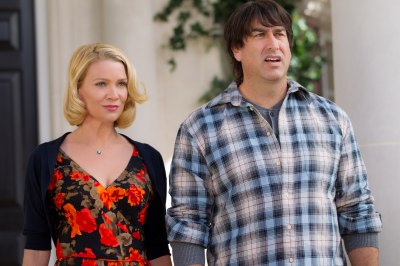 Holden and Riggle have scenes in the movie that neither would soon forget. "We shared a level of intimacy that most people are unaware of…and for good reason," Holden laughs.
Riggle, on the other hand, has no qualms about revealing the act: "She put my toe in her mouth," he notes. "That took a lot of courage and commitment."
Potential kidney donor Penny is most definitively the biological daughter of Fraida, but the verdict is not in as to her father's identity. She's not the sharpest tool in the shed, so the list of suspects has easily been narrowed to two. Rachel Melvin was brought on board to play the dimmest of the Pinchelows.
Melvin was cast in the role when she met with casting director RICK MONTGOMERY during a commercial shoot in Los Angeles. "He said to me, 'I have something else you might be good in,'" recalls the actress. "'Would you be interested in reading for the Farrelly brothers for Dumb and Dumber To? You seem fun and glib, and I think they would like you.' The kicker was that I didn't know what 'glib' meant at the time, so I guess I was destined for this part."
Melvin's research for the role consisted simply of watching the first movie and absorbing Lloyd and Harry's aura. "My parents loved Dumb and Dumber, and my personal favorite part is the end with the Hawaiian Tropic girls."
Daniels was happy to offer some coaching to his acting partners. He says: "Not only did we provide laughs in the first movie, we also provided information for the other actors to draw upon on how to be stupid." He pauses: "We're just giving back."
Rounding out the core cast are Major Crimes' Steve Tom as Dr. Bernard Pinchelow, a brilliant Nobel laureate and Penny's adoptive father; Grudge Match's DON LAKE as Knowledge Engineering Nexus (KEN) conference attendee Dr. Meldmann; Eureka's TEMBI LOCKE as Dr. Barbara Walcott, the KEN symposium director; and Let's Be Cops' PATRICIA FRENCH as the draconian Ms. Sourpuss, who follows the conference rules to a "T" and refuses to let Lloyd and Harry into the convention. As if the rules have ever stopped them.
A staple of any Farrelly brothers' movie is their use of cameos, as well as pop-ups of their friends and family. In no particular order, eagleeyed viewers may also spot recording artist SWIZZ BEATZ as the ninja leader, Texas Rangers pitcher DEREK HOLLAND as an asylum patient, New England Patriots receiver TROY BROWN as a KEN conference attendee, former NBA star JON BARRY as an emergency room orderly, Atlanta Falcons minority owner JOHN P. IMLAY, JR. as a farmer, and the Farrelly brothers' mom, MARIANN NEARY FARRELLY, as the farmer's wife. In Lloyd's fantasy, Harry's wife is played by JUNE SHANNON (Honey Boo Boo's mother). Last, but not least, Lloyd's new roommate, Ice Pick, is played by, well, we'll let you find out as you watch the credits…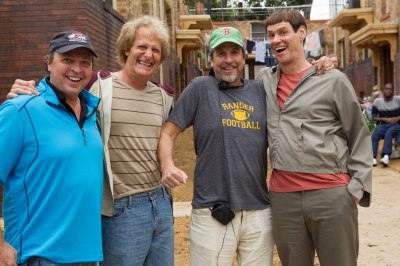 GOTTA GET OUT OF THIS TOWN:
DESIGN AND LOCATIONS
Production commenced in September 2013 in Atlanta, Georgia, and the public got its first look at Carrey and Daniels as Lloyd and Harry. The guys' old apartment building in Providence, Rhode Island, was re-created over three weeks on a vacant lot on Pearl Street in the Atlanta neighborhood of Cabbagetown. Yes, Billy in 4C (BRADY BLUHM) is back, and there are still issues with the guys, him and his birds.
The filmmakers rediscovered Brady via Facebook and learned that he is now working as a teacher and living in Southern California. "I had no clue those two lines from the first movie would follow me for the rest of my life," laughs Bluhm. "Twenty years later, people don't recognize me, but when they find out that I was the kid with the bird they basically freak out."
On his very first day of shooting, Daniels was able to unlock some long dormant acting chops. "Jim has been able to do these types of roles over the years, but Jeff never does," notes Peter Farrelly. "So, all of a sudden, after 20 years he gets to do something incredibly goofy and he just came alive. It was exhilarating to watch."
It was only 36 hours prior that Daniels was in Los Angeles winning an Emmy Award for his role on The Newsroom. "Then I went from winning that award about a guy who's really smart to playing a guy with an IQ of about 8," says the performer. "I would love to go to a restaurant where Will McAvoy and Harry Dunne are having lunch and hear what Harry would ask Will."
Daniels was both pleased and disturbed that he slipped so easily back into the character. "It took me a lot more to get into the character of Will than Harry, and that's a bit frightening that Harry comes so easily," he muses. "It doesn't bode well for my twilight years."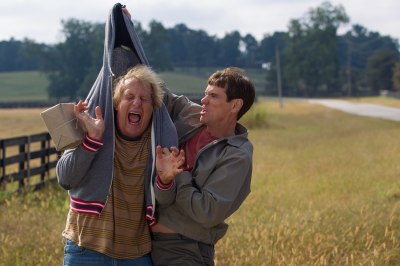 As for Carrey, stepping back into character "was very much like an H.G. Wells time-travel thing the first day when I put on the old costume," he recalls. "We tried some new things in the wardrobe fittings but I kept saying, 'Nope, nope, nope.' Ultimately, I just wore the same thing. It felt right."
Writer Yellin was continuously mesmerized by the transformation of the two leads. He laughs: "My favorite thing on set was to watch the 'smart' drain out of Jim and Jeff 's faces when the camera rolled and they became Lloyd and Harry."
An hour southwest of Atlanta is the community of Grantville (also home to the series The Walking Dead), which posed as rural Kansas. Here, the production team shot what would serve as the home of the film's Barbara Hershey Museum, where the guys rediscover the Mutt Cutts van from their first adventure. Monroe (southwest of Athens) and Stone Mountain (east of Atlanta) served for various scenes in which Lloyd and Harry made their way through Kansas on the way to El Paso and the KEN conference...and its assemblage of the world's techiest eggheads.
West Park Square in El Paso was created with the use of Marietta Square in Glover Park for two days of shooting as Carrey and Daniels cruised through on a Zamboni ice resurfacer. Of course, the Zamboni was not the real McCoy, but rather a creation from transportation coordinator ROBERT FOSTER, JR.'s key department.
Marietta was also where Melvin had her first scene in the movie with Carrey, when the characters meet by a fountain. "I'm always straightforward, so I came out and told Jim: 'Look, I'm incredibly nervous because it's my first day and I'm a huge fan of yours,'" recalls the actress. "Around the town square there were hundreds of people watching the shoot and yelling to get photos with Jim, but after 20 minutes, I was totally and completely at ease because Jim's just so cool."
Production designer Aaron Osborne created the KEN conference in three separate locations. The outside was staged at the Cobb Energy Performing Arts Centre, while an auditorium at the Gwinnett Performing Arts Center was utilized for key interiors, and most of the KEN conference was staged inside the lobby at the Georgia International Convention Center. Four hundred extras helped fill out the massive space.
The Felcher & Felcher Funeral Home was lensed at Henry Funeral Home in Lithonia, Georgia, which either had a very healthy community when production was prepping the set and shooting or referred its business elsewhere during the filming of the comedy.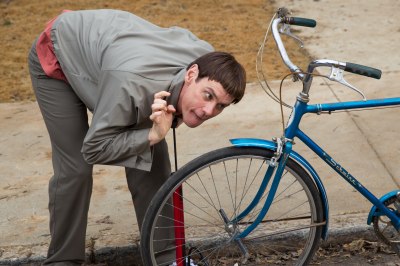 In Harry's key fantasy sequence, he is living a suburban life and Lloyd is homeless digging through the trash. For that dream take, Lloyd wears a necklace made of teeth. Carrey, who had his own front cap removed—again—to play the character, decided that Lloyd would have lost all his teeth. Therefore, property master MIKE SABO had to come up with a tooth necklace the afternoon before a night shoot. He called his dentist, who connected him with an Atlanta oral surgeon who fortunately had just extracted a mouthful of teeth. Sabo was able to bleach them for two hours and had just enough time to string them together and drape the necklace around Carrey before DP Matthew F. Leonetti's cameras rolled.
For the scene in which Riggle's character Travis played "funnel nuts" with Lloyd and Harry, the guys had ice-cold slushies poured down their pants for six takes. "On the fifth take, Pete asked me to react more, and I told him I was totally numb down there," laughs Daniels. "Everything was frozen."
Riggle had to endure two intricate bodypainting sessions for gags that involved Captain Lippincott, and miraculously, no CGI was involved. The goal was to blend the character into the background of the scene, and makeup consultant CAROLYN ROPER, one of the world's premier body artists, succeeded beyond anyone's wildest dreams. After seeing the movie, the odds are good that few will look at a vending machine in quite the same way.
During free time from filming, Riggle would don a body suit and stand in the environment in which the scene was to take place. Beginning with sketching, then painting, Roper would meticulously create every detail. On the day of the shoot, Riggle then had to undergo the final step of having his face, hands and upper chest painted over the course of two hours.
Lastly, the hotel where Lloyd and Harry truly pushed the limits of what constitutes a practical joke on Travis was shot at a motel off I-285 in Decatur. It took construction three weeks to build out the motel so that production could shoot the stunt sequence of Travis on fire…as he falls from the second story into the pool. Shepherded by stunt coordinator TIERRE TURNER's crew, there was nothing dumb about the safety precautions taken that day.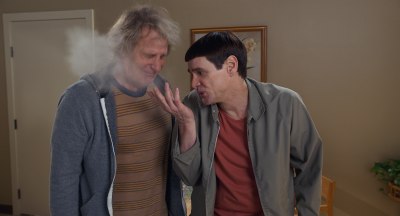 « Previous
|
1
|
2
|
3
|
4
|
5
|
Next »