Finders Keepers
Page 3 of 5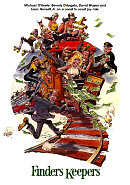 Production Notes
A missing $5,000,000, an inept con man, a lovely neurotic with full frontal volubility, a Viet Nam was hero, a false kidnapping and a train across America are a few of the ingredients of Richard Lester's "Finders Keepers."
So are a revenge-bent female Roller Derby team, a runaway house, the oldest railroad conductor in the world, the FBI, a Yugoslavian cook, a randy daughter, and a man called Century Milestone.
CBS Theatrical Films presents "Finders Keepers," starring Michael O'Keefe, Beverly D'Angelo, David Wayne, Pamela Stephenson, Ed Lauter, Brian Dennehy, John Schuck, Jack Riley, Timothy Blake, Jim Carrey and Louis Gossett Jr. as Century. The film was directed by Richard Lester, produced by Sandra Marsh and Terence Marsh from a screenplay by Ronny Graham & Terence Marsh and Charles Dennis. Richard Lester served as executive producer. "Finders Keepers" is distributed by Warner Bros. (W) A Warner Communications Company.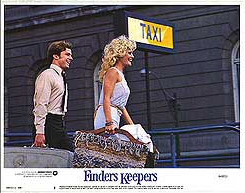 "Finders Keepers," interestingly, began its journey toward production in Pakistan, when producer Sandra Marsh, who was producing her first motion picture, the acclaimed "Blood of Hussein," became determined to find and package a major studio feature picture.
Reading every book available, she discovered Charles Dennis' novel
The Next To Last Train Ride
, a novel she believed could be shaped into a highly farcical motion picture comedy.
With her husband, Oscar-winning production designer Terence Marsh, she sought and received development backing from Warner Bros., and the couple, as the film's producers, engaged actor-writer Ronny Graham, who, working with Terry Marsh, wrote the screenplay.
Convinced that an ensemble approach to casting would best serve the material, the Marshes gained immediate enthusiasm for this style from director Richard Lester. Hot off the worldwide successes of his "Superman II" and "Superman III," Lester immediately came on board both as director and exective producer.
Funny is fragile, and the cast was selected with the care of royal marriage brokers: Lester and the Marshes assembled a rich "repertory company" consisting of Michael O'Keefe, Beverly D'Angelo, David Wayne, Pamela Stephenson, Ed Lauter, Brian Dennehy, John Schuck, and Louis Gossett Jr. as Century.
Lester is a director whose technique involves development of a myriad of minute touches that evolve into a brilliant background mosaic. This "tapestry approach" was achieved by painstaking casting of both actors and crew members.
Both the Marshes and Lester were committed to the idea of putting every budget penny on screen, for a tale in which two very tarnished innocents get involved with a stolen $5,000,000 on a train trip from Oakland, California, to High River, Nebraska. Since Alberta, Canada, had successfully served as Lester's locations for Metropolis and Smallville in "Superman III," the province was chosen as a double for a half-dozen American Western states.
A key part of the filming took place on a train, a fact that required complex collaboration between VIA Rail, the Canadian Pacific and Canadian National railways. Production not only had to organize the logistics of 106 crew members and dozens of cast members, but also the availability of the trains and the tracks.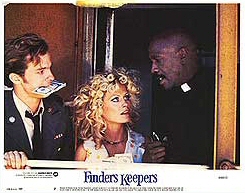 The manic action at the climax of "Finders Keepers" required the construction of a mammoth and complex set--a "breakaway" house on wheels. The film's final confrontation between heroes Michael Rangeloff (Michael O'Keefe) and Century Milestone (Louis Gossett Jr.) and villain Josef Sirola (Ed Lauter) takes place on a house which is being towed from one site to another. The action calls for the careening house to crash into other structures, ripping away the roof and the wall and exposing the interior like a doll house.
This "gag" might have been difficult and costly to repeat in the event of a retake, but veteran production designer Terence Marsh took the possibility of disaster into account and had the set designed so that a miscue the first time around wouldn't decimate the budget. A sturdy steel frame and modular roof and sides insured the reusability of the set. As it turns out, this spectacular piece of action was pulled off successfully on the very first take.
A good portion of the giant Canadian province of Alberta is seen in the Soundcross Films production for Warner Bros. distribution. The towns of Strathmore, Red Deer, Vulcan, Lethbridge, High River, and various neighborhoods of Calgary are featured--as well as vast open spaces representing gigantic expanses of Western America.
The production team was headed by Associate Producer Dusty Symonds, Director of Photography Brian West, Editor John Victor Smith, Sound Mixer Peter Handford, Production Manager Les Kimber, Special Effects Supervisor Brian Warner, Art Director Dennis Washington and Production Executive Teddy Joseph.
With thanks to Cotton
« Previous
|
1
|
2
|
3
|
4
|
5
|
Next »