Lemony Snicket's A Series of Unfortunate Events
Page 3 of 5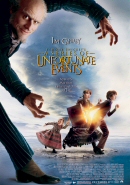 Production Notes
Dear Reporter,

I'm sorry to tell you that the movie you are reading about is extremely unpleasant, an expression that here means, "it involves three ingenious orphans, a sinister villain and a hair-raising misadventure." It is the story of the Baudelaire siblings who, although unusually clever and charming, lead lives filled with misery and woe. In this alarming cinematic event alone, you will encounter a terrible fire, dim lighting, high tragedy, a giant snake, low comedy, man-eating leeches and Jim Carrey.

I am bound to continue my research into the unfortunate events that befall the doomed Baudelaire orphans at the hands of the sinister Count Olaf, but you are free to seek lighter fare, like a documentary about cheese fondue.

With all due respect,
Lemony Snicket
The Ominous Overview
You'll be extremely alarmed to learn that two-time Golden Globe winner Jim Carrey stars as Count Olaf, an outrageously diabolical actor and master of disguise who is determined to swindle the Baudelaire orphans out of their family fortune in "Lemony Snicket's A Series of Unfortunate Events." The film also stars two-time Academy Award® winner Meryl Streep as the children's overanxious Aunt Josephine and two-time Oscar® nominee Jude Law as the voice of Lemony Snicket. The result is a dreadful spectacle, a phrase that here means, "it will stir the imagination of the entire family as it shatters the mold of adventure stories and evokes the magic of truly classic entertainment."
Paramount Pictures and DreamWorks Pictures present a Parkes/MacDonald Production and a Nickelodeon Movies Production of a Brad Silberling film, "Lemony Snicket's A Series of Unfortunate Events," starring Jim Carrey, Jude Law as the voice of Lemony Snicket, Liam Aiken, Emily Browning, Timothy Spall, Catherine O'Hara, Billy Connolly, Cedric the Entertainer and Meryl Streep. Directed by Brad Silberling from a screenplay by Robert Gordon based on the books The Bad Beginning, The Reptile Room and The Wide Window by Lemony Snicket, the film is produced by Laurie MacDonald, Walter F. Parkes and Jim Van Wyck, and executive-produced by Scott Rudin, Barry Sonnenfeld, Julia Pistor and Albie Hecht. If you know anything at all about any of these people, you know they are all suspiciously successful, successfully suspicious, or both.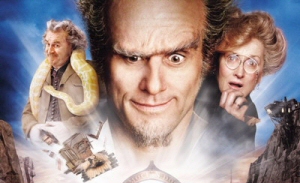 © United International Pictures
Paramount Pictures is part of the entertainment operations of Viacom Inc., one of the world's largest entertainment and media companies and a leader in the production, promotion and distribution of entertainment, news, sports and music. It is not associated with any secret organization of noble volunteers, and it does not employ anyone whose name is Lemony Snicket, except in certain instances. This film has been rated PG by the Motion Picture Association of America for thematic elements, scary situations & brief language.
The Startling Story
From the fairytales of the Brothers Grimm, to Victorian-era moralistic fables, to the twisted works of Roald Dahl, there is a long tradition in children's literature of absurdly awful things happening to perfectly nice children. The eleven books written and narrated by the mysterious Lemony Snicket – whom some accuse of being the same person as 34-year-old author Daniel Handler – take that tradition to new heights... and drop it off a cliff.
In a perplexing sign of the state of children and evil Counts today, Mr. Snicket's novels have won widespread critical praise and popular acclaim. They were the first books to knock the Harry Potter series off the top of the New York Times children's bestseller list, and since then, the books in the series have been on that list for more than 600 weeks combined. With rave reviews from respected publications including the New York Times, Entertainment Weekly and U.S. News and World Report, Mr. Snicket's books have sold more than 27 million copies worldwide – in spite of the author's repeated pleas to "read something else!"
Now, a major motion picture adaptation directed by Brad Silberling and featuring a distressingly talented cast that includes Jim Carrey and Meryl Streep is darkening theaters. The film employs the same subversive humor, peril, whimsy, imagination, heartfelt emotion, quirky style and man-eating leeches that make Mr. Snicket's books so unique.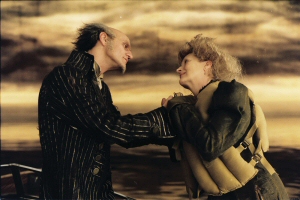 © United International Pictures
"I begged them not to do it. I begged them not to get a good director. I begged them not to cast anyone talented. I begged them not to base the movie on any of my books, and they chose three of them!" exclaims Mr. Snicket, speaking from an undisclosed hole in the ground or luxury mansion. "My last hope is that hordes of volunteers will read this quote, buy every movie ticket available, and then not go see the film."
"Lemony Snicket is one of the most original voices out there," says Mr. Carrey, ignoring Mr. Snicket's feelings entirely. "His demented little journey into these kids' lives is both wonderful and frightening."
Ms. Streep, whose daughter was "wild about the project," couldn't pass up the opportunity to be in the film. "What's so appealing about the story is that it shows how independent kids can be," observes Ms. Streep. "It plays out their fantasies of being completely responsible for themselves, and in the case of the Baudelaire children, being smarter than any adult in the room." The actress did not comment, however, on the fact that one of the children in the film is forced to dress as a camel, albeit briefly. Actor Jude Law, who voices Lemony Snicket, learned about Mr. Snicket's books when his son excitedly brought one of them home from school, despite the fact that no one appeared to be chasing him.
"The Lemony Snicket books attract the attention of both children and their parents in a very unique way," observes Mr. Law, who says that his narrator, though faceless, has an emotional attachment to the children and watches them from afar. "Unlike most literature aimed at young people, this series has a rather sinister quality to it, which people of all ages seem to find intriguing." Sinister is a word which here probably means "Count Olaf," a terrible villain and a worse actor played by Mr. Carrey. Time and again, the children are forced to rely on their own keen intelligence and unique talents to escape Olaf's clutches. Some believe Count Olaf is a source of great comic relief. Others believe he smells odd and has only one eyebrow. Still others think he is one of the most frightening movie villains since Joan Crawford.
To director Brad Silberling, the books give children credit for having a sense of humor, and they don't play down to anyone. He says that's how he approached directing the film. "The books are rebellious; they take chances, and so does the movie." It should be noted, however, that Mr. Silberling is not the one taking the chance when a stunt child is required to hang from a cliff.
Building on the theme that adults often don't listen to children when many times they should, the story, according to Mr. Silberling, is one of survival and perseverance. It reinforces the power that kids can have when they rely on their own ingenuity – especially in a world that can be unfamiliar, unkind and filled with itchy clothing. "Lemony Snicket's world is a collision of tenses, which manages to marry computers and cobblestones, and these kids have to use their wits in this very odd environment," observes Mr. Silberling. "It's just a wonderful story with a texture that can feel like it's part of another time, but technologically it's very contemporary and so are the issues it explores." Such issues may include community-based justice, hook-handed henchpersons and refrigerators.
Executive producer Julia Pistor, who is also the senior vice president of Nickelodeon Movies, remembers when the team at Nick Movies first discovered Lemony Snicket in 1999, shortly before The Bad Beginning, The Reptile Room and The Wide Window – the first three installments of the series, and the books upon which the film is based – were published. "We read the books in manuscript form and snapped up the rights as fast as we could because we loved the slyly subversive humor," recalls Ms. Pistor. "It was completely new to children's literature and the story of these remarkable children constantly outwitting the adults fit perfectly within the Nickelodeon oeuvre." Oeuvre is a word which here probably means either "goat cheese omelet" or "body of work," depending on how it is pronounced.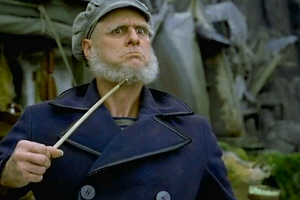 © United International Pictures
Producer Walter F. Parkes notes that the film is not only an adventure story about three clever siblings, but also the story of Lemony Snicket himself, who relates to each of the characters – young and old – in very specific ways. "In fact," says Mr. Parkes, "by the end of the film you have a sense that Lemony is going to follow everyone's lives because their stories must continue to be told." Mr. Parkes then put on a pair of dark glasses and a fake mustache, saying it was entirely possible Mr. Snicket was following him, too. Producer Laurie MacDonald agrees, adding that she had never read children's books that were so sophisticated and funny, and simultaneously had something important to say. "Despite its irreverent comic tone, the movie, like the books, deals with survival," observes Ms. MacDonald. "The fact is, the Baudelaire children seem to actually know how to overcome all their misfortunes with their resourcefulness, while the adults remain rather blind to all that's going on around them." Ms. MacDonald then bumped into an angry mob while attempting to exit the room. Yet another person convincingly disguised as a producer of the film, Jim Van Wyck agrees, adding, "This is a wonderfully intelligent and unpredictable story founded on the strength of family and the resiliency of children." Executive producer Ms. Pistor concludes that the ingenuity of the Baudelaire children is nothing short of inspirational. "This film doesn't insult the intelligence of kids, it celebrates it," says Ms. Pistor, who was prompted by a suspicious 12-year-old "assistant." "I just love how the Baudelaires can see right through Count Olaf and outsmart him every time."
Casting the Considerable Cast
Lemony Snicket's hysterically woeful account begins when the three Baudelaire siblings are bluntly told that their parents have just died in a fire that destroyed their home. Producer Walter F. Parkes says that Lemony Snicket's tale follows the tradition of literature dating back to the classics and carrying through to literature and film today. "From the Brothers Grimm to Dickens, from 'Bambi' to 'Finding Nemo,' the idea of being orphaned is a central theme of family literature," observes Parkes. "Ironically, it often provides the foundation for the most hopeful and empowering of stories because it deals in a magnified way with the challenge that all children eventually face: growing up and dealing successfully with the adult world." "These stories are classic because they allow children to deal with certain unavoidable fears in a safe context," adds producer Laurie MacDonald. "They also instill the feeling that no matter what happens, things will turn out all right." In fact, things do turn out all right time and again in "Lemony Snicket's A Series of Unfortunate Events," but not until the Baudelaire children are sent to live with a series of abominable guardians. The first is Count Olaf (Jim Carrey), who follows them to each of their new homes in a relentless campaign to trick the orphans out of their vast inheritance.
To Mr. Carrey, Count Olaf was a role he had to play because it allowed him to be so many characters within a character. "This guy is everything that's negative about a human being," laughs Mr. Carrey, whose character dons a series of outrageous disguises in the course of the film, including dressing up as a salty peg-legged sailor and a deranged lab assistant. "He's a megalomaniac. He's a sociopath. He's a complete façade who's insecure about everything from his acting ability to his hairline – though he'd never let anyone know that – and best of all, he allowed me to make fun of acting!"
Suspiciously, Mr. Carrey denies being a terrible villain himself, despite the fact that he has amassed an enormous fortune. "To Count Olaf, the Baudelaire children are the door to his future – nothing more," continues Mr. Carrey. "You'll like him even though you're supposed to hate him." The interview concluded, Mr. Carrey then returned to reading the thespian classic "Despicable Characters and the Fans Who Love Them."
Another caretaker of the children is their Aunt Josephine (Meryl Streep), a nervous widow who never turns on the radiator for fear it might explode, avoids her refrigerator because it might fall and crush her, and doesn't use her telephone because of the danger of electrocution. Frightened of just about everything except grammar, Aunt Josephine lives in an old house perched precariously on a cliff high above Lake Lachrymose, a long and complicated description which here means "not a very good idea, especially because it is about to be hit by a hurricane."
"Aunt Josephine is a great tremulous little bird of a person who was an adventurer in her youth until something spooked her," says Ms. Streep. "I just fell in love with this character who is terrified of absolutely everything, because at a certain level, so am I…so are we all," she concludes, peeking out from behind a false bookcase. More intuitive and insightful than any of the adults in charge of them, Violet, Klaus and Sunny Baudelaire must employ every ounce of intelligence, ingenuity and courage to endure a series of fantastical misadventures that include an Incredibly Deadly Viper, a swarm of hungry leeches and dishwashing.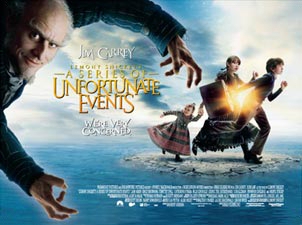 © United International Pictures
Violet (Emily Browning) is the eldest of the siblings and one of the finest 14-year-old inventors the world has ever known, having invented such contraptions as a bed that makes itself, an automatic harmonica player and a device that can retrieve a rock after it has been skipped in to the ocean. Violet's inventiveness serves the children well in their struggles, except perhaps during the incident involving the speeding train. "I just loved the books. Right from the start when Lemony Snicket says you won't want to read them – then of course you totally do," says Ms. Browning. "My character is sort of the responsible one, and she feels that since her parents are gone, she's the one in charge. She's really a great kid – smart, caring and she throws an optimistic spin on all the horrible things that keep happening." The poor young actress then burst into tears.
Violet's younger brother Klaus (Liam Aiken) is an avid reader, having read more books at 12 years of age than most people read in their entire lives. That passion for knowledge helps him and his siblings survive a number of unfortunate events, although it doesn't do much good when he is hanging off the side of a very tall tower. "There are a lot of things in this movie that you'll have to think twice about," observes Aiken. "It has some seriousness to it, but basically it's really very funny." Clearly, the up-and-coming actor still has difficulty coming to terms with his experience on the film.
Finally, their younger sister Sunny (played by twins Kara and Shelby Hoffman) is an adorable toddler who speaks in a series of shrieks only Violet and Klaus can understand. With her unusually sharp teeth, Sunny has a peculiar affinity for biting things. "The only thing you know for sure about Sunny is that if she bites you hard, she doesn't like you," laughs Aiken, rubbing his ankle. "And if she bites you softly she does!"
Trying to steer the conversation away from the alarming conspiracy, director Silberling says he was thrilled with his entire cast – from the headline stars to the children who performed like veteran actors. "First of all, I think of Jim Carrey as sort of an odd cousin to Peter Sellers," says Mr. Silberling, who has no genealogical evidence to back up his claim. "He's a remarkable character actor – beyond being a fantastic comedian – and he can absolutely disappear into roles. The truth is, you can't find a greater chameleon to slip in and out of a number of characters, keep the comedy going, but also keep up a keen sense of mystery. He was my first choice for Count Olaf and he really runs with the role."
Meryl Streep was also the director's first choice to portray Aunt Josephine. "After all, she's like the 'Walter Cronkite' of living actresses – somebody you look up to as a bastion of stability and well-roundedness, so the irony of choosing her to portray this completely unstable character was just irresistible!" Mr. Silberling acknowledges that the search for the right children to play the Baudelaire orphans was necessarily broader, at least partly because very few children would choose to subject themselves to a string of disasters, tragedies, misfortunes and inappropriate catering. But he feels very fortunate to have found such wonderful young actors to portray Violet, Klaus and Sunny.
"Casting Emily Browning as Violet was a no-brainer," recalls Mr. Silberling. "I saw a spirit in her that was timeless, yet utterly contemporary, which is also a perfect description of the world of Lemony Snicket. And Liam is one of the oldest souls I've ever met under the age of 14. He's a remarkable young actor, and just like Klaus, he's three steps ahead of everybody around him. Then there are the Hoffman twins, who together portray Sunny. It's remarkable how well they performed. They far exceeded my expectations." Rounding out the cast is an extraordinary group of actors that includes Timothy Spall, Catherine O'Hara, Billy Connolly, Cedric the Entertainer, Luis Guzmán, Jennifer Coolidge, Craig Ferguson and Jane Adams, to name just a few. This eclectic troupe, along with a few surprising cameos, shows just how many people can be tricked into participating in a project this disturbing.
"The story is full of twists right from the beginning all the way through to the end," observes Mr. Spall, who portrays Mr. Poe, the bumbling executor of the Baudelaire estate. "For example, the narrator begins by describing these wonderful, clever children and you think it's going to be a pleasant tale about them. Then my character Mr. Poe shows up on the beach – a dry banker who's as out of place in the scene as a dolphin in a phone booth – and I inform the children their parents have perished in a fire. It's rather stunning." Stunning is a word which here means, "you'd better bring tissues." "Unique – that's what this film is!" laughs Billy Connolly, whose character Uncle Monty, a herpetologist, often wears an eight-foot long albino Burmese python around his neck. "I grew very fond of that python. It used to breath heavily in my ear, make a wee moan and sort of a hiss as though it were whispering to me." The python had no comment.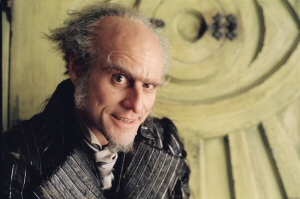 © United International Pictures
In fact, "Lemony Snicket" features the services of over 100 supporting cast members of the nonhuman variety, a complicated expression which here means "animals." All were under the supervision of renowned Hollywood animal coordinator Jules Sylvester.
"The Reptile Room sequences often called for as many as 70 snakes and reptiles, including highly venomous cobras, Egyptian cobras, vipers, rattlesnakes, green tree pythons, jungle carpets, iguanas, scorpions, water moccasins and a 200-pound tortoise," says Mr. Sylvester. "They were even given their own green room, which Tank the tortoise found delicious. He ate through one of the walls!" Like those made by other actors, Tank's attempt to escape the set proved unsuccessful. With its considerable cast of great actors, unwitting accomplices, fearless children and dangerous creatures, "Lemony Snicket's A Series of Unfortunate Events" is an unforgettable experience that will leave families everywhere severely shaken, hopefully with laughter.
The Perilous Production
Alarmingly, the filmmakers were adamant that "Lemony Snicket's A Series of Unfortunate Events" remain true to the unusual spirit and style of the best-selling books. The film had to capture the unpredictable tone of the series, its timeless setting and its extreme woefulness. To fully realize his vision for the movie adaptation, director Brad Silberling was passionate about assembling the best possible production crew. The distinctively stylized production design was placed in the hands of the Oscar®-winning production designer for "Sleepy Hollow," Rick Heinrichs.
"One of the great things about the world I was asked to create is that once you're in it, you're not exactly sure where or when you are," says Mr. Heinrichs. "The film gives you a sense of a parallel universe, and has an 'other worldliness' to it that is familiar and yet unfamiliar at the same time."
In fact, the production design for "Lemony Snicket's A Series of Unfortunate Events" is so prominent that it is virtually another unfortunate character in the story, especially since a series of terrible things happen to it, including a fire, a hurricane and dim lighting. To develop this "character," the filmmakers made the audacious decision to shoot the entire film on Hollywood soundstages.
"The biggest challenge in making this movie was that, basically, we were creating a world on a stage," explains Mr. Silberling or an impostor who looks and sounds exactly like Mr. Silberling. "Therefore, because we shot everything in the tradition of old Hollywood stage pictures, we really had to examine each scene to ensure that the look we got had a timeless quality which incorporated both contemporary and somewhat period textures. In that way, we were able to tell the story in a very controlled environment in terms of light, sound and atmosphere."
An art department under the supervision of production designer Mr. Heinrichs was assembled nine months before principal photography began. The conspiracy included two-time Oscar®-nominated cinematographer Emmanuel Lubezki ("Sleepy Hollow," "A Little Princess"), supervising art director John Dexter ("Planet of the Apes"), three-time Oscar®-nominated set decorator Cheryl Carasik ("Men in Black," "The Birdcage," "A Little Princess"), Academy Award®-winning costume designer Colleen Atwood ("Chicago") and set designer Luke Freeborn ("Arrested Development"), who built many of the models that would serve as prototypes for the sets. "Rick Heinrichs was at the top of my dream team list because his production design has a way of communicating a very tactile yet imaginative world," says Mr. Silberling. "The look he has created is very handmade, perhaps a little on the gothic side, but at the same time it's exciting, beautiful and really spectacular." "It was great working with Brad because he's very visually oriented," says Mr. Heinrichs. "From the beginning, he wanted to anchor his story and its characters in an environment that made sense, so he was involved with the art department through every step. When we ended up with a vaguely American look that we called 'a Dickens New England,' we were all very pleased. It was exactly what we wanted." Unlike Dickens or New England, however, the production design included a giant garden ornament shaped like a snake.
An important contributor to the look of "Lemony Snicket's A Series of Unfortunate Events" is director of photography Emmanuel ("Cheevo") Lubezki, another suspicious person who appeared on the director's dream team list, as well as various other wanted lists. "Cheevo is somebody like myself, who loves to find emotional beauty in the oddest of circumstances," says Mr. Silberling. "He found a way, with lighting and composition, to create an extraordinary look for the film." Throughout the pre-production period of "Lemony Snicket," the art department immersed itself in massive amounts of research. There were ongoing exchanges of ideas, which would lead to drawings, photographs, nervous breakdowns and models, followed by more conversations about the sets and how they would reflect the story's various characters. "This picture had, without a doubt, one of the most elaborate research departments I've seen on any film I've ever worked on, and that includes a lot of period films," observes set decorator Cheryl Carasik, who went to nearly every swap meet, flea market, and villain's mansion in California looking for authentic items that might be used as props or set dressings. In the end, after collaborating closely with Mr. Heinrichs, Ms. Carasik estimates that approximately 85 percent of the set dressings were modified in some way, while many of the furnishings were custom built in order to ensure a distinctive look to nearly every piece in the film.
"Because this story is not set in a period that can be pinpointed, I felt liberated in my designs," says Ms. Carasik, who may or may not have been speaking from a Moroccan bazaar in 1927. "It was a lot of fun having no time period constraints, and because of that, I could really push everything I did to the limit." One particular set decoration Ms. Carasik recalls is the "saw art" that appears in the "Last Chance Superette" scene. "There are some amazing panoramic views in this movie, and so I had a scenic painter work his magic on this two-man, four-foot handled saw that we hung inside the superette," explains Ms. Carasik, who may have been speaking in code. "The saw was quite unique – like the film itself – with a cornfield painted across the metal part along with a forced perspective of the railroad tracks." Ms. Carasik also remembers a particular table in Count Olaf's house that she took great pains in making quite sturdy. "We custom built this ten-foot long table out of beautiful mahogany and reinforced it with steel rods in the legs," says the set decorator. "I figured that at one point Jim Carrey would be getting up on top of it, and in fact, he did take a lively stroll down the middle!" According to witnesses, poor table manners were not unusual on the set.
Finally, in order to make the Count's home that much more ominous, Ms. Carasik says that she worked out a method to quickly "age" some of the materials – a highly unusual task to undertake in Los Angeles, where great pains are more often taken to make things look younger. "We developed a process of acid etching the material for Olaf's draperies that created a striated pattern," explains Ms. Carasik. "In essence, we took brand new fabric, and over a two-week process, aged it so that it was so faded and distressed-looking it appeared as though it had been hanging there for 100 years."
Costume designer Colleen Atwood contributed to the agelessness of the film's production design by incorporating elements of modern day dress with other costumes that had a stylized Victorian sensibility. "My basis for the look of the costumes was driven more by the Lemony Snicket books, which called for an eclectic conglomeration of periods that loosely felt Victorian," explains Ms. Atwood, who often collaborates with actors, villains and members of secret organizations in the evolution of their costumes or disguises. "Like hair and makeup, wardrobe can be an invaluable tool to help an actor find his character. For example, Jim Carrey really uses his costumes, reinventing himself with each garment, which is the ultimate reward for a designer." Resurrecting traditional Hollywood techniques, the filmmakers relied on scaleddown models of sets in order to pre-visualize how a real set would work. In order to create huge cornfields or seemingly endless train tracks, they incorporated innovative combinations of painted backdrops and forced perspective. This allowed them to take the limited space of the soundstage and create a landscape or an environment that fools the eye into thinking what it is seeing goes on forever. Like spies, desert camouflage and Eurasia, the set seems to blend into the background, making it impossible to determine where one thing leaves off and another begins.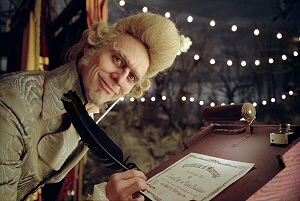 © United International Pictures
"'Lemony Snicket's A Series of Unfortunate Events' was, without question, the most complex production challenge we've ever faced," says producer Laurie MacDonald who, with Walter F. Parkes, has produced "Gladiator," "Men in Black" and "Twister," among other outrageously ambitious pictures. In fact, from a production standpoint, "Lemony Snicket" reflects two movies within one, in that the company shot on 10 different soundstages at Paramount Pictures, and then shifted to Downey Studios in suburban Los Angeles, which was formerly the Boeing facility where the Space Shuttle was built. All in all, the film required 70 different sets, 5 of which were on water. Like going to war or making an 82-egg omelet, the project involved staggering logistical challenges. "At one point, we became known as 'Lemony Piggy' because we ended up taking over so many stages at Paramount to try to bring this world to life," recalls director Brad Silberling. To be sure, there were times during the production when there were 300-400 conspirators working simultaneously on different soundstages on the studio lot, while others were building the water sets in Downey. The larger sets, particularly the adoptive homes where the children go to live, took an average of 14 weeks to build and dress, while it took 20 weeks to construct the imposing home of Count Olaf alone. Olaf's huge mansion, which was three stories tall, needed to be structurally sound in order to accommodate so much treachery, including the ambitious stunts of the film's climax. In keeping with the attention to detail that pervaded the production design for "Lemony Snicket," the filmmakers went to great lengths to make each character's homereflect his or her personality. For example, the design for Count Olaf's house avoided the traditional look of a Victorian haunted house. Instead, the set reflected Olaf's vanity as an actor, incorporating nine alarming portraits of the Count in different theatrical roles, including Olaf dressed up as actor John Barrymore, George Washington pointing across the Delaware, a knight in shining armor and Queen Elizabeth I, complete with a big lace Victorian collar. Notably, however, there was not a single likeness of Count Olaf as Bruce Almighty.
The antagonist's home is also filled with a prominent "eye" motif, which suggests to audiences and orphans that Olaf is constantly watching them. "Sometimes we did subtle things like incorporating eyes into the peacock wallpaper," remembers production designer and conspirator Mr. Heinrichs. "Other times we used more overt touches like the painting of an eye hanging on the wall." Set decorator Carasik also used eyes in her designs. "I acquired an antique couch, stripped it, then completely reupholstered it, carving eyes into the wooden frame and using an eye-themed fabric," remembers Ms. Carasik shamelessly. "There's also a customized grandfather clock with an eyeball in the clock's face and a pupil in the pendulum. It's really something to see." Meanwhile, Uncle Monty's house and the Reptile Room within were constructed to feel like the inside of Monty's head. Filled with the clutter and disarray of an absentminded professor, who is also a bachelor, both the interior and exterior of the country estate incorporate exotic and serpentine elements – including scaled arches, reptile-themed floor tiles and dirty socks. In addition, there are 90 cages holding exotic reptiles from around the world. It would all be quite startling if it didn't appear in the same movie as a villainous actor who has one eyebrow.
"My character Uncle Monty has one of the best homes of everybody in the movie," enthuses Billy Connolly. "The floor is all interlocking lizard shapes. There's a skeleton of a giant snake, and countless live snakes and creepy things all over the place!" On the other hand, Aunt Josephine's home is a rickety old cottage built on stilts against a cliff overlooking a lake. It immediately suggests the loopiness and frailty of her character. And, because the one joy in Josephine's life is grammar, her library is filled with books on proper word usage, tense and spelling. Notably, however, it does not contain a single book titled, "How to Outwit a Terrible Villain Named Count Olaf". But it wasn't just the set's "personality" that was precarious. The structure itself needed to be built in such a way that would allow it to collapse around the young actors when Hurricane Herman hits. The creative team accomplished this by building the house on hydraulic lifts that could lift it 20 feet high and drop it 10 feet in two seconds, and which were capable of supporting 100,000 pounds. In other words, even natural disasters were part of the production team's dastardly scheme. For the five sequences shot directly on or beside Lake Lachrymose, Downey Studios came into play. A large industrial space, the Downey stages housed the largest indoor tank in North America. Spanning over 2-1/2 acres and measuring 130 x 250 feet, the enormous tank is 10 feet deep and holds 2-1/2 million gallons of water – perfect for bringing Lake Lachrymose to life or seeing if extras would sink. If constructing the sets was a physical challenge, the makeup was both a physical and mental hurdle. Each day, Jim Carrey required three hours of make up by the mysterious Bill Corso, who had collaborated with the actor on "Bruce Almighty." "Billy is an amazing artist in so many respects," says Mr. Carrey, who willingly endured the treachery Mr. Corso inflicted upon him. "I really think he's a genius." As for how Mr. Corso feels about the actor, the makeup artist and master of disguise exclaims, "Talk about sacrificing yourself for your art! Jim had to go through life looking like a ghoul for eight months, wearing long fingernails, staying out of the sun to keep his skin pale, and allowing us to shave him bald daily!"
From a makeup perspective, Mr. Corso says that the biggest challenge was coming up with a character who then recreates himself to be other characters without losing the essence of the original -- Count Olaf. "We wanted to stay true to the illustrations of Olaf in the books, so we took those elements, mixed them with Jim Carrey, and came up with something we never could have imagined," laughs Mr. Corso diabolically. "The character is really a latter day Lon Chaney who is a mixture of a vulture, a vampire and Sir Lawrence Olivier!" Unlike a vulture or a vampire, however, Sir Lawrence Olivier was a vegetarian. According to Mr. Corso, creating the characters that Count Olaf portrays was an entirely different project altogether. "Captain Sham was a little easier than Olaf, since we had a wonderful picture of a crusty old seaman as a basis, but Stefano, the would-be herpetologist, went through a few different looks. We had a swashbuckler and a Captain Hook type for awhile, then we finally settled on an awkward insurance salesman with a bad comb over." In fact, the only thing more treacherous than a bad comb over is a good one. As for working with Mr. Carrey, the veteran make up artist says it was a delight. "Jim contributed greatly to creating Olaf and all of his various disguises. It's rare to find an actor so astute in how make up is a part of formulating a character." Besides a special effort by numerous people to make Mr. Carrey unspeakably evil (looking), hairstylist Anne Morgan's role was key in that she had to gradually thin Mr. Carrey's hair to create the illusion that the extremely vain Count Olaf was going bald. Ambitious special effects work was also a huge part of "Lemony Snicket's A Series of Unfortunate Events," and the filmmakers assembled a massive visual effects team to get the job done.
"The challenge of visual effects is to make them look as though they aren't visual effects and to make them look seamless with the rest of the picture," says visual effects producer Tom Peitzman. "In this movie, there was a real emphasis on building and photographing real settings and effects instead of just sitting down with a blank canvas on a computer and creating an image." This is a fancy way of saying that most of the unfortunate events in the film are real. Michael Lantieri, who worked with director Brad Silberling on "Casper," served as the special effects supervisor, making him responsible for any disastrous effect that happened on the set in front of the camera. In that capacity, Lantieri made extensive contributions to the film, ranging from creating the hydraulic lifts for Aunt Josephine's house, to the on-stage, 80 mile-per-hour winds of Hurricane Herman, to overseeing the construction and use of the Downey Studios water tank that was Lake Lachrymose. "We all agreed that, for this film, we would let the story drive the effect and not the other way around," says Lantieri. "In that way, the effects illuminate the characters' personalities." To that end, Aunt Josephine's irrational fears come to life when her radiator blows up, her refrigerator comes crashing down and her doorknobs shatter when a huge hurricane destroys her house in what may be the movie's most eye-popping sequence. In addition, Count Olaf literally flies out of the reach of the Constable (Cedric the Entertainer) when his wedding plot goes awry, in a wonderfully fantastical scene that illustrates Olaf's wily wickedness. "Wonderfully fantastical scene" is a phrase which here means "you should probably wear a blindfold."
"Audiences are going to be treated to a very stylized, very interesting journey that has a huge scale and scope to it," concludes Mr. Lantieri. "So just sit back, go along for the ride and enjoy the odyssey." Meryl Streep completely agrees. "The sets for this film were masterfully done. I mean, I've been on the sets of movies for 30 years and these ones for this film are the greatest I've ever seen in my life!" Jim Carrey is equally enthusiastic. "I felt like I landed in the middle of 'The Wizard of Oz,'" exclaims Mr. Carrey. "This project really impressed me." In the words of Mr. Snicket, wouldn't you rather see something else?
« Previous
|
1
|
2
|
3
|
4
|
5
|
Next »