Me, Myself & Irene
Page 2 of 6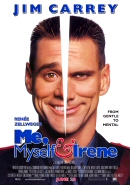 What's it about
Mild mannered Charlie (Jim Carrey) is a Rhode Island state trooper with a split personality. If he forgets his medication, and is pushed, his manic alter ego, Hank, takes over. On a routine trip both personalities fall in love with the same girl (Renée Zellweger) and become embroiled in a criminal plot.
Do you want to contribute a full review of this movie?
Contact us
.
Script Review
Script Review by BCDavis
It seems like a simple enough plot line: A Rhode Island State Trooper named Charlie develops a split personality named Hank, and both fall for the same woman.

CHARACTER DEVELOPMENT:
Charlie is a sweet guy - he gets walked all over, doesn't stick up for himself, obeys every jot and tittle of the law, and is a general wuss. His other personality, Hank, is the complete opposite - he's no less than an aggressive SOB, a guy who messes with the minds of people, thinks only of himself, and is a prime candidate for solitary in a maximum security prison. They both are interested in Irene. Charlie actually loves her and cares for her, while Hank just wants to bang her, then kill her off. When one personality is present, the other not only doesn't know what the other is doing, they don't remember, what each has done. Irene is a beautiful young woman who gets in the wrong place at the wrong time. The poor girl gets horribly confused with the Charlie/Hank interplay as the story moves along, and frankly, I'm surprised she makes it to the end of the film. Charlie also has three boys - triplets. Since they are African-American, he obviously did not sire them. His ex-wife had an affair with a black limousine driver/molecular genetics professor.

STORYLINE:
A Rhode Island State Trooper doesn't know how to cope with the affair his ex-wife had, nor can he cope with things that generally tick him off. He internalizes everything. The result? A split personality disorder develops, with his aggression coming out in explosive form in the gent known as Hank. Charlie eventually meets up with Irene by an assignment of her extradition out of state for charges pending. Along the way, both become wanted by the FBI and state law enforcement. At one point Charlie forgets and loses his medication that keeps Hank in check. The result: An all out battle for final control by the two radically different personalities. The climax of the story takes place on a bridge over a raging river, where we see who finally wins out.
REVIEW:
As I read through the script, a thought crashed through my reverie: How come the psychology and characters remind me so much of "The Mask"? In fact, I just pictured Jim Carrey without the green makeup, and I got Charlie and Hank. Not that that's a bad thing, mind you. Actually, I really enjoy looking forward to see how Jim will play out the roles. Carreyholics who were saddened by the guillotining of the sequel to "The Mask" ("Revenge of the Mask") will be ecstatic with this film, as I believe that's what audiences like the best of "The Mask" movie - not just the special effects, but the Yin-Yang of the main characters. This movie has just that.
For the comedy itself, it is a classic Farrelly Brothers' yarn, with plenty of junior high bathroom humor jokes (I lost count of how many time's Charlie is in the bathroom, or relieving himself in other places), as well as explicit sexual humor (like that found in "There's Something About Mary," another Farrelly Brothers movie). Be warned, folks, this flick could get a rated "R" rating faster than you can say "Alrighty, then!" But, I have a hunch it'll be toned down enough to garner a PG-13 rating. Oh, and look for a scene a la the bathroom scene in "Liar, Liar." Funny as all get out, too. All in all, if Jim plays his characters well (of which there should be no doubt), then the kind of lax plot line won't matter much for Carrey and Farrelly Brothers fans. Besides, the audience will be laughing too hard to really care anyway. I look forward to seeing the film. I do have one question, though: Must Jim really suffer with a broken tooth in BOTH films he does for the Farrelly Brothers?
Images ©
20th Century Fox
.
Credits
Production Companies
20th Century Fox
Conundrum Entertainment
Distributor
20th Century Fox
Directors
Bobby Farrely
Peter Farrelly
Writers
Mike Cerrone
Bobby Farrelly
Peter Farrelly
Producers
Bradley Thomas
Bobby Farrelly
Peter Farrelly
Co-Producers
Marc Fischer
Mark Charpentier
Executive Producers
Tom Schulman
Charles B. Wessler
Composer
Lee Scott
Cinematographer
Mark Irwin
Editor
Christopher Greenbury
Cast List
Jim Carrey
Renée Zellweger
Anthony Anderson
Mongo Brownlee
Kate Forster
Jerod Mixon
Chris Cooper
Michael Bowman
Richard Jenkins
Robert Forster
Mike Cerrone
Rob Moran
Daniel Greene
Tony Cox
Andrew Phillips
Jeremy Maleek Leggett
Justin Chandler
Zen Gesner
Steve Sweeney
Traylor Howard
Lenny Clarke
Herbie Flynn
Heather Hodder
Tracey Abbott
Jackie Flynn
Steve Tyler
Googy Gress
Joey McGilberry
Sean Gildea
Anna Kournikova
Bob Mone
Richard Tyson
Danny Murphy
Cam Neely
Brian Hayes Currie
Nicki Tyler Flynn
Mark Leahy
Kevin J. Flynn
Conrad Goode
John Mark Andrade
Scott T. Neely
Shannon Whirry
Jerry Parker
Heather Dyson
Christine DiCarlo
Mark Levine
John-Eliot Jordan
Bob Weeks
Ezra Buzzington
Will Coogan
Rex Allen Jr.
Brendan Shanahan
..... Officer Charlie Baileygates/Hank Evans
..... Irene P. Waters
..... Jamaal Baileygates
..... Lee Harvey Baileygates
..... Featured
..... Shonte Jr. Baileygates
..... Lt. Gerke, Massena PD
..... Whitey/Casper
..... Agent Boshane, EPA
..... Colonel Partington
..... Officer Stubie
..... Trooper Finneran
..... Dickie Thurman
..... Shonte Jackson
..... Lee Harvey, Age 9
..... Jamaal, Age 9
..... Shonte Jr., Age 9
..... Agent Peterson, EPA
..... Neighbor Ed
..... Layla Baileygates
..... Barber Shop Car Owner
..... Herb the Barber
..... Jump Rope Girl
..... Grocery Store Mom
..... Trooper Pritchard
..... Maternity Doctor
..... Guy on the Street
..... Helicopter Agent
..... Kid's Father
..... Motel Manager
..... Officer Delicato
..... Gun Shop Owner
..... Agent Steve Parfitt, FBI
..... Trooper Sea Bass
..... Soda Machine Man
..... Trooper Maryann
..... Vermont Police Officer
..... Dick, Barber Shop Wisebuy
..... Softball Player
..... George, Handsome Barber Shop Guy
..... Trooper Neely
..... Beautiful Mom
..... Paramedic
..... Reporter
..... T.V. Reporter
..... Golfer
..... Pizza Boy
..... Train Conductor
..... Mr. Murphy, Disabled Guy
..... Disabled Guy's Aide
..... Narrator (voice)
..... Cop
Movie Quotes
| | |
| --- | --- |
| Charlie Baileygates: | Now you know the house rules, no bitches after eleven. |
| Hanks Evans: | Well fuck my ozone. |
| Hanks Evans: | The name's Hank, fuck face, learn it! |
| Hank Evans: | What are you staring at, fuckface? |
| Guy on Street: | What is your problem? |
| Hank Evans: | I got no beef with you. This is between me and the boy. |
| Hank Evans: | What the hell are you still doing here? |
| Charlie Baileygates: | You can't just throw me away, Hank, we're in this together. |
| Hank Evans: | Name's Hank, Hank Evans - for little girls... |
Taglines
From gentle to mental
« Previous
|
1
|
2
|
3
|
4
|
5
|
6
|
Next »