Me, Myself & Irene
Page 6 of 6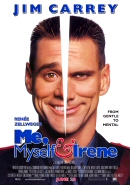 Behind the scenes
---
Notes from the set of "Me, Myself & Irene", 5/25:
The Addison 4-Corners Country Store in Vermont
- By Scott I. Remick -
Well, I was there on the set of "Me, Myself, and Irene" yesterday... I've been cast as an extra but they haven't used me yet. They called me in yesterday and used my car, but this time I just hung around, chatting with the crew, joining them for food, coffee, etc :). It's so nice to not be shooed around (too much)!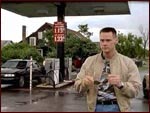 Filming was done at the Addison 4-Corners Country Store in Vermont. Although it's supposed to be in NY... haha. The scene was Jim picking a fight with a group of beer-drinking baseball players hanging out on a truck (they used the truck of one of the extras, but he wasn't used in the scene himself). They use a tazer on him and then proceed to beat the crap out of him. Then Renée jumps out of her car to stop them.
The 2 youngest extras called in were used as 2 random people walking into the store during the scene. 2 women extras were used as random people pumping gas into their car. A 5th was used as a stand-in for one of the baseball players. Those 5 extras were all that were actually used... there were about 12 of us or so called in.
Interesting tidbit: one of the women pumping gas was an extra in the original Jaws movie. As the movie opens, there's a beach scene where a boy and girl kiss. She's the girl.
Filming was slow as we were hit with off and on rain. When it wasn't raining, it was sunny. And when it rained, it was a torrent. This switched back and forth about 3 or 4 times. It kept threatening to cancel the entire day of filming but the crew held out and did what they could. Considering the amount of setup they went through for this short scene, I can see why.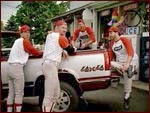 Jim was there, of course, and so was Renée (the person everyone was REALLY looking for!). Jim's stunt double got most the action for the second half of the day. I was told this guy did many of the stunts in past James Bond movies.
Oh, and the main baseball guy was one of the cons in "Con Air", so I'm told (haven't seen the movie myself, but he kinda looks familiar from the previews, so I believe it). If I had pictures I could pick him out, as I saw enough of him (and ate almost right across from him).
Anyhow, it was fun... I got drenched, and got paid for basically doing nothing. And they fed us incredibly well. I expect to be called back again, as I live very close by.
Images ©
20th Century Fox
---
Notes from the set of "Me, Myself & Irene", 6/15:
Essex Jct, Vermont
- By Scott I. Remick -
We were at the Amtrak train station, which had been renamed "South County" quite nicely for the film. Finally, I got a chance to participate in the action. The scenes shot that day included 2 RI state troopers looking for Charlie/Hank (Jim Carrey) on an incoming train, one of the RI troopers getting beat up and ending on the ground, and a nice old red Mustang which I couldn't see all the action around. I was some of the background action, walking around with people, getting lemonade from the cart, etc.
At the end of the day, they did some shots on the train, and we all got to spend over 3h riding back and forth while they filmed. Jim wasn't involved in this part, but Renée was... she was getting chased by one of the feds (at least, I think he was a fed).
Unlike the day in Addison, the weather was great, and all together it was a really fun time. Certainly a lot more extras and regular cast were used in this scene, which also occurred in a much more populated area of Vermont (Addison is very rural, but Essex is MUCH bigger and is right near Burlington). So as you would imagine, there were a LOT of crowds... cheering fans and the like. Crowd control was a bit of a problem, but I think everyone was happy. I helped answer the questions of onlookers as best I could, and made a few dozen kids' days by simply shaking their hand.
---
Notes from the set of "Me, Myself & Irene", 6/16 & 6/17:
Burlington, Vermont
- By Scott I. Remick -
The scenes just keep getting bigger. Another train station, but this time we're in downtown Burlington (supposed to be Providence, RI). They took the Amtrak station and put a huge fake stone thing on top that said "Providence" (it sure looked convincing). The building is being renovated in real-life, but they took one lower section of it and totally went nuts, building stuff to their tastes. The bathrooms (which lead nowhere) confused many cast and crew alike.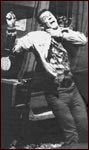 There were many scenes shot here. Train arrives, and Renée and Jim get off (Jim of course trips over his own feet and ends up falling off instead).
In another shot, Hank and Charlie battle it out in front of the train. A rather interesting shot involved Jim (well, his stunt double) throwing himself through a large window in the station. When you watch the movie, pay attention... that's real glass, folks. They set up charges around the edge of the window and had them shatter the glass just as the stunt guy hit it. He still got cut up a bit... the most interesting thing the medic has had to deal with besides passing out suntan lotion and aloe (I got burnt myself and chatted with her).
Other parts of this scene that lead up to this were shot out of sequence, so it wasn't obvious until the end what was going on. Renée is heading into the train station, and Hank takes over and so he goes over to 5 women on a bench, exposes himself, and then plays with his "weasel" as he chases them. They scream and run away (although in one version, one woman remains for a few moments, rather interested, until another grabs her and yanks her away). In the last version, Jim turns and even chases a nearby man into the bushes until Charlie regains control and tries to apologize. Hank compliments himself on having quite the way with the women, and then Jim grabs his own ear (happens a lot through the movie) and flips himself over onto the concrete. I couldn't tell if it was Hank flipping Charlie or vice-versa. The stunt double is the one you actually see land on the ground, but Jim demonstrated he was perfectly able to do the flip... they had him use a mat though. Jim then gets up, and smashes through the window into the station.
After this bit of chaos, a unmarked government vehicle squeals to a stop amongst the crowd outside, and feds get out and pull guns. The crowd drops, shots are fired, and Renée and Jim run out. Renée makes it onto the leaving train (a fed chasing after her), but Jim apparently does not. It will really be Renée you see get on the "moving" train, but don't be fooled: it was the camera moving... the train was still. My guess is that because the fed chasing her onto the train was the same chasing her while already on the train Tuesday, is that the Tuesday shot happens AFTER what we did Thursday. It's a pain keeping track of the order.
Anyhow, I appeared all over the place in the shooting of these scenes. Who knows what will make it to the final production, and what will end up on the editing room floor? I'm sure if you pay attention, though, you'll find all sorts of discrepancies amongst the extras... it's normal. You don't really need to hire THAT many extras, just keep reusing them :). I was surprised on the amount of reuse though. I'm actually on both sides of the window breaking in... both outside running up to see what happened, and inside as the guy at the Coffee Exchange cart. Go figure :)
Thursday was Bobby Farrelly's birthday. His mom was there, and Jim and Renée (who normally eat by themselves, away from the rest of us) came down to visit the cast/crew food tent for a happy-birthday singing and cake. Later in-between takes, Bobby was taken out onto the set, sat on a box, dance music started, and a MALE stripper game out and stripped to nothing but a g-string. Everyone cheered... I'm not sure, but I assume Bobby's straight and that was part of the humor. Anyway, it appeared that the camera's were rolling (there were two on the set at the time, pointed at him, with people running them), so there's some pretty valuable film floating around now. Good luck getting your hands on it though.
Weather this week was spectacular, so I got plenty of sun. It was tons of fun. They shot on the streets of downtown Burlington today (Friday), and had wanted me to show up, but it was too late notice and I had already promised work that I'd be there Friday (today). Oh well. I'm not entirely sure if there'll be any more shooting in Vermont, but either way, it's still possible that I'll get called again.
---
- By Caitlin Eliza Falzone -
Well, I just returned to my boring job after a fun-filled two days of being an extra in Jim's new movie, "Me, Myself and Irene" here in beautiful Burlington, Vermont. It was the most amazing time ever! There were about 20 of us that were used continuously and had to be chased by Jim himself after one of his alter personalities emerged (Hank).
Jim is so unbelievably nice and he his so funny on the set. Pete Farrelly had to cut numerous times because we couldn't help but laugh when he was doing his scenes.
Anyway, if you ever get a chance to be an extra in one of his movies DO IT! It will be the most fun of your life!
---
- By Candi Brinkman -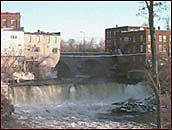 I was hired by a local security company, who was in turn hired by 20th Century Fox to work the movie sites for the filming of "Me, Myself and Irene". They had remade our footbridge in Middlebury, Vt. into some kind of waste site or something, and our job was to keep people off the set. They had set up trailers for some of the cast and crew to stay in. Many people actually thought Jim Carrey was staying in one of the trailers, when in reality he did not. Our job at night was to keep people off the set, quiet, and away from the trailers. On days that they were filming (which were only about 3 days with Jim and Renée there), our main duty was to keep people quiet and away from the filming area.
I was off duty most often during the day, but got to go onto the set and watch the filming. My fiancé was working on some of those days, so I brought our son down to watch the filming. We had the pleasure of being able to sit very close to the set and our son got to see Jim up close and personal, not even 10 feet away from him. He waved frantically and said hi to Jim, and Jim waved back to him and smiled.
One other day, when I was off duty, I went down to watch the filming without our son. They were filming a scene where the bad guy had Irene out on the bridge, and both of them fell off the bridge onto mats floating in the river below. Of course, these were just stunt doubles when it came to the falling off part. Jim went out to say his lines, and fake like he was going to jump off the bridge. The director called "Cut!" and Jim was just standing there being bored when he all of a sudden jumped off the bridge himself! Everyone instantly started laughing and applauding him. It was a hilarious sight to see!
My fiancé, who had been working on the site longer than I had, had the pleasure of meeting the Farrelly brothers, Bobby and Peter, who are the directors of the movie. On one of our days off, my fiancé, another guard, the other guard's girlfriend, and I were standing around watching the filming of the scene in which Peter plays a minister (which was filmed in my Great Aunt's garage). Peter walked up and told us not to go anywhere, he was going to introduce us to Jim. We waited around until the filming was completely over, and Peter walked toward us with Jim at his side. Peter then began introducing us on a first name basis with Jim—who smiled, shook hands with us, and addressed us by name. That was definitely a moment that will live on in my mind forever.
Another day came where we were needed at a different site, and fortunately, I got to work it. They had moved the trailers to another site farther north in Vermont, and my duty was to make sure no one attempted to vandalize the trailers, or anything else on that site. When everything slowed down, and most everyone was gone to the site at which they were filming, I had very little to do. There was a nice woman sitting inside a tent and, as it was a very warm day out, I stepped in to get some shade. We began talking and I expressed how much I would have loved to have been able to get a copy of the picture of the cast and crew of the movie, so I would have something material to remember the occasion by. After we had talked for a few more minutes, she revealed that she was Bradley's (the producer) mother. I was very tickled pink that I got to meet the producer's mother, as well as having met Peter, and Bradley himself. Later on that evening, when I was just resting after having been walking all day long, a young woman walked up to me and asked if I was Candi. I said yes, and she said she had something for me. Bradley's mother had spoken to him and he had gladly given me a copy of the picture, so I would have something to remember this by.
I didn't get to meet everyone in the cast, but I did get to meet a few of them. Working on that movie site has got to be one of the most thrilling times in my life. I got to meet many interesting people and one of the greatest movie stars ever! I am an avid watcher of Jim Carrey's films, and I am so thrilled to have met him.
Middlebury brige photo ©
M. Kading
.
« Previous
|
1
|
2
|
3
|
4
|
5
|
6