Me, Myself & Irene
Page 3 of 6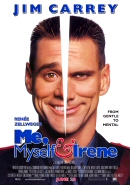 Production Notes
by MTMoura
"Me, Myself & Irene", a 20th Century Fox and Conundrum Entertainment production, is the second collaboration between the Farrelly brothers ("There's Something About Mary") and Jim Carrey. Their previous joint effort was the hilarious 1994 smash hit "Dumb and Dumber".
The script was co-written by the Rhode Island native duo and Mike Cerrone. Although Peter and Bobby Farrelly's original intention was just to produce, they've quickly changed their minds when learning about Jim Carrey's interest in starring as Charlie Baileygates, a Rhode Island State Trooper suffering from Multiple Personality Disorder.
Renée Zellweger ("Jerry Maguire", "The Bachelor", "Nurse Betty") co-stars as Irene, the love interest of both conflicting personalities, who gets involuntarily involved in a federal investigation conducted on her ex-boss, played by Danny Green ("Kingpin").
Jerod Mixon ("Bullworth"), Mongo Brownlee ("Con Air") and Anthony Anderson ("Romeo Must Die") take on the roles of Charlie's geniuses sons, while Michael Bowman is the albino waiter with an unsettling past, who joins Charlie and Irene during their escape.
Robert Forster ("Jackie Brown") also co-stars as Charlie's captain and Jessica Harper ("Pennies from Heaven") as his psychiatrist. Richard Jenkins ("There's Something About Mary") and Chris Cooper ("American Beauty"), portray a pair of dishonest cops on the trail of Charlie and Irene.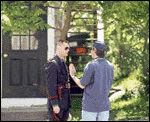 True to their reputation of producing riotous blockbuster comedies with just a couple of cardboard cuttings, glue and string, the Farrellys put together "Irene" with an estimated $45 million budget, a considerably low figure by current Hollywood standards. "Me, Myself & Irene" also had an unusually fast start as the first buzz regarding the project hit the media during mid April of 1999 and by the beginning of May production had already begun.
Principal photography started in Jamestown, Rhode Island, on May 11th surrounded by much excitement. Other Rhode Island locations used were Newport and Narragansett, a small beach community, where a private Summer cottage served as Charlie's house.
On May 24th production proceeded to Vermont, setting headquarters in the city of Burlington. On location filming occurred in several places around the State, namely Essex, Colchester, Vergennes, Waterbury, Essex Junction, Burlington, Richmond and Williston. Middlebury had the special honor of hosting the movie's final scenes. The Otter Creek falls footbridge was transformed into a closed railroad trestle where filming occurred during three days in early July. Production wrapped on July 27th.
[More details on the production can also be found through the news
search engine
and at the
Behind-the-scenes
section]
-- JCO would like to thank the many fans who sent in reports from all over Rhode Island and Vermont making of "Me, Myself & Irene" the most exciting JC production covered to date.
Image ©
Newport This Week
.
« Previous
|
1
|
2
|
3
|
4
|
5
|
6
|
Next »